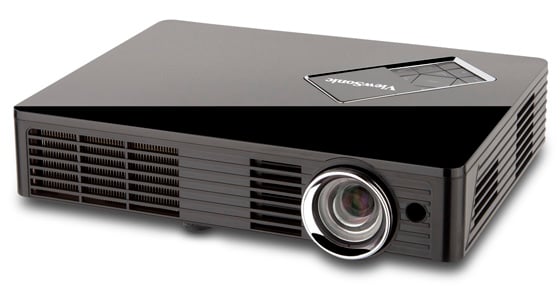 If your definition of a projector is a big, bulky box with obnoxiously loud fans used to cool overpriced lamps that need replacing after every couple thousand hours of use, you might as well take the ViewSonic PLED-W500 off of your list because by those standards, this device doesn't quite make the cut.ViewSonic is talking up the PLED-W500 as an ultraportable business projector, as well as a device that a traveling businessman would have absolutely no problem packing up and taking on the road with him for meetings or demonstrations.The projector's WXGA 1,280 x 800 native resolution is perfect for detailed presentations and even though the 500 ANSI lumens output isn't much to look at on paper, the clean, sharp image (complete with 6,000:1 contrast ratio) shows up well and clear enough to be used in diffused daylight settings.
The projector itself is rather small, only measuring 8 x 6 x 1 inch and weighing only 2.6 lbs. What's more is that a laptop is also unnecessary as the PLED-W500 has its own 1GB of memory and is also capable of displaying a plethora of data types from things such as a USB drive or SD card.
Standard picture formats like PDF, JPG and BMP are also catered for, as is Microsoft office document and PowerPoint formats. Instant start-up and power down is also an impressive feature but that isn't even the most interesting feature. What will really intrigue you is the fact that the projector runs completely cold. The 500 lumens are provided by LEDs that are rated to run for 20,000 hours, which is the life of the entire projector effectively.
There is a built-in fan that mostly blows out cold air so the device isn't completely silent but the noise it does emit is by no means intrusive. Slides on the projector can even be changed via the remote control that comes with the projector and the remote also doubles as a laser pointer.
This is definitely the perfect device for any traveling businessman, especially if you want an extremely useful and well designed printer that is extremely portable and able to be written off as a business expense. You can purchase the ViewSonic PLED-W500 directly from ViewSonic.
Source: Reg Hardware – Viewsonic PLED W500 portable projector